Unusual pain perception phenotype in Zfhx2-deficient mice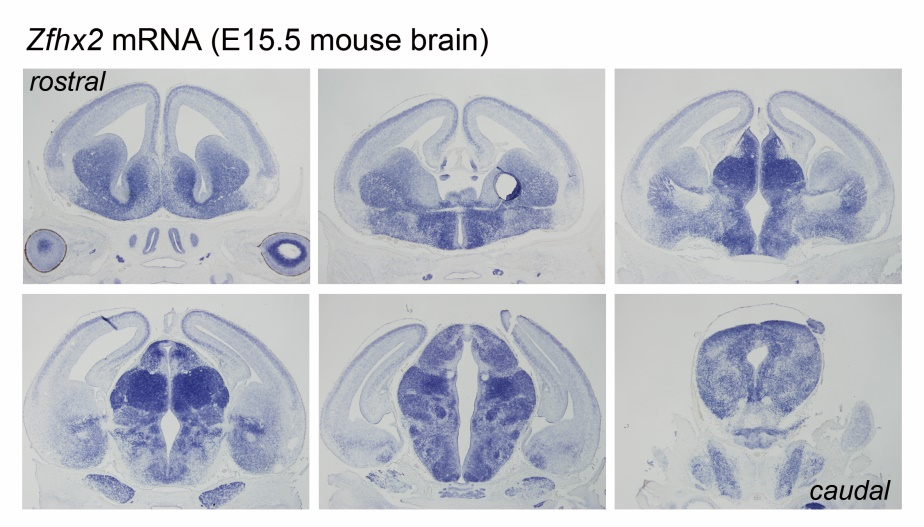 Courtesy of Yuriko Komine, Ph.D.
Expression of Zfhx2 mRNA in an E15.5 mouse brain. This gene is highly expressed also in dorsal root ganglion.
ZFHX2 is a nociceptor-expressed transcription factor containing 3 homeobox domains and 18 zinc-finger motifs. Depositor (Dr. Yamamori) and his colleague achieved cloning of Zfhx2 and developed Zfhx2-global knockout mice in 2006 (1). Zfhx2 expression is observed highly in the developing brain and Zfhx2-global knockout mice show several behavioral abnormalities (2).
Recently, it was reported that Marsili syndrome (OMIM: 147430) is caused by a point mutation in ZFHX2 gene (3). The Marsili syndrome is a human Mendelian disorder and the symptom is insensitivity to pain. Zfhx2-global knockout mice also show the unusual pain perception phenotype.
Zfhx2-global knockout mice are useful for elucidation of pain-related molecular network. Therefore, this strain will contribute to development of novel analgesic drugs in future.
Depositor
:
Tetsuo Yamamori, Ph.D. & Yuriko Komine, Ph.D.
National Institute for Basic Biology
Strain name
:
B6.129S-Zfhx2<tm3Ymri>
RBRC No.
:
RBRC02262
References
:
(1)
Komine Y, Nakamura K, Katsuki M, Yamamori T.
Novel transcription factor zfh-5 is negatively regulated by its own antisense RNA in mouse brain.
Mol Cell Neurosci.; 31(2):273-83, 2006.
(2)
Komine Y, Takao K, Miyakawa T, Yamamori T.
Behavioral abnormalities observed in Zfhx2-deficient mice.
PLoS One.; 7(12):e53114, 2012.
(3)
Habib AM, Matsuyama A, Okorokov AL, Santana-Varela S, Bras JT, Aloisi AM, Emery EC, YD, Follenfant M, Gossage SJ, Gras M, Humphrey J, Kolesnikov A, Le Cann K, Li S, Minett MS, Pereira V, Ponsolles C, Sikandar S, Torres JM, Yamaoka K, Zhao J, Komine Y, Yamamori T, Maniatis N, Panov KI, Houlden H, Ramirez JD, Bennett DLH, Marsili L, Bachiocco V, Wood JN, Cox JJ.
A novel human pain insensitivity disorder caused by a point mutation in ZFHX2.
Brain.; 141(2):365-376, 2018.
April 2019
Contact: Saori Mizuno, Ph.D.
Experimental Animal Division, RIKEN BioResource Research Center
All materials contained on this site may not be reproduced, distributed, displayed, published or broadcast without the prior permission of the owner of that content.