Gata3 otic vesicle enhancer
for Gata3 inner ear-specific expression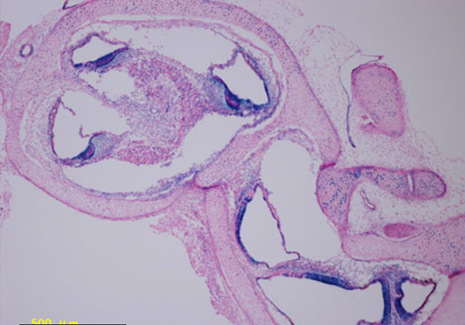 Courtesy of Takashi Moriguchi, M.D., Ph.D.
Tg(Gata3/coreOVE-cre) #2481 mice crossed with Rosa26 reporter strain
showed β-gal activity in cochlea.
Transcription factor GATA3 is known to be expressed in various tissues and specify normal programmed development in those tissues. In inner ear development, GATA3 expression is initiated in otic placode at embryonic day 8 and induces formation of an otic vesicle, which differentiates to definitive inner ear tissues. Though it is clear that normal inner development requires GATA3 expression, molecular mechanism to regulate Gata3 transcription remains uncertain.

Recently, Dr. Moriguchi and his colleagues found a 1.5 kb cis-regulatory element located 571 kb 3' to the Gata3 gene and designated this sequence as Gata3 OVE (otic vesicle enhancer). To date, they demonstrated that a Gata3 OVE, especially 3' 246 bp sequence from OVE (coreOVE) containing binding sequence for Sox (sex-determining region Y box) and Pax (paired box) transcription factor family members, is evolutionally conserved between humans and mice and has an otic vesicle-specific gene regulatory activity. Actually, they generated a Gata3 coreOVE-directed Cre recombinase transgenic mouse strain (RBRC10625; B6D2-Tg(Gata3/coreOVE-cre) #2481 mice) and confirmed that otic vesicle-specific Gata3 deletion leads to inner ear hypoplasia by crossing with Gata3 floxed mice.

From the clinical research, GATA3 is one of the responsible gene for hereditary sensorineural deafness. Therefore, further elucidation of molecular mechanism of Gata3 gene expression in inner ear development will bring novel insights into both pathogenesis elucidation and therapeutic strategy.
Depositor
:
Takashi Moriguchi, M.D., Ph.D.
Tohoku Medical and Pharmaceutical University
Strain name
:
B6D2-Tg(Gata3/coreOVE-cre)#2481Mpu
RBRC No.
:
RBRC10625
Reference
:
[1]
Moriguchi T, Hoshino T, Rao A, Yu L, Takai J, Uemura S, Ise K, Nakamura Y, Lim KC, Shimizu R, Yamamoto M, Engel JD.
A Gata3 3′ Distal Otic Vesicle Enhancer Directs Inner Ear-Specific Gata3 Expression
Mol Cell Biol. 2018 Oct 15;38(21):e00302-18.