iRFP transgenic mice for in vivo imaging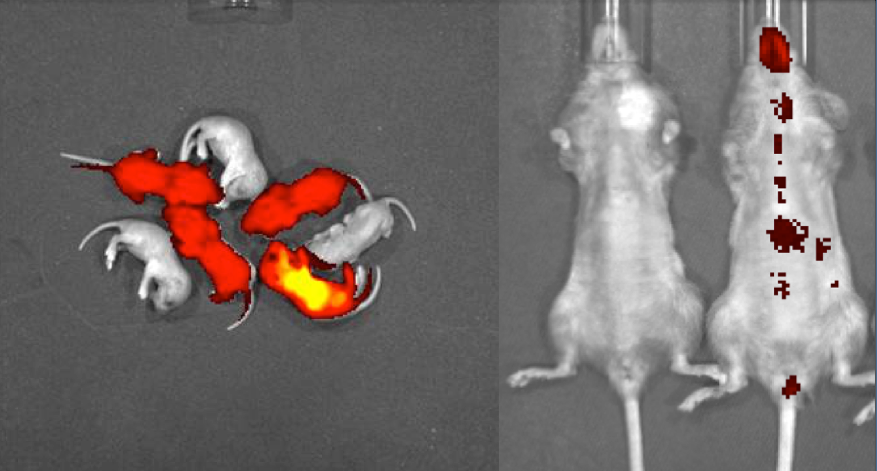 Courtesy of Yoshihiro Miwa, Ph.D.
Transplantation of cells from iRFP Tg mouse (left) visualizes accumulation of the cells non-invasively in recipient (right).
Near-infrared (NIR) fluorescent protein (iRFP) is a nontoxic fluorescent protein that can be excited at 690 nm and emits fluorescence at 713 nm (1). Because iRFP is brighter, stronger and more stable than previous fluorescent proteins, these advantages allow the great deep tissue penetration and minimal autofluorescence in vivo; that is, ubiquitous iRFP transgenic mice (RBRC10067 and RBRC10068) are useful for in vivo imaging (2). Actually, depositor (Dr. Miwa) and his colleague established in vivo murine atherosclerosis imaging system by using iRFP transgenic mice (3). They reported that this novel imaging approach predictably enable to monitor lesion progression without an invasive method or injection of imaging reagents.
Depositor
:
Yoshihiro Miwa, Ph.D.
Department of Molecular Pharmacology (Fluorescence Bioimaging)
Faculty of Medicine, University of Tsukuba
Strain name
:
B6.Cg-c/c Tg(CAG-iRFP)#846Utr
RBRC No.
:
RBRC10067
Strain name
:
B6.Cg-c/c Tg(CAG-iRFP)#867Utr
RBRC No.
:
RBRC10068
References
:
[1]
Filonov GS, Piatkevich KD, Ting LM, Zhang J, Kim K, Verkhusha VV., Bright and stable near-infrared fluorescent protein for in vivo imaging. Nat Biotechnol.; 29(8): 757-61, 2011.
[2]
Tran MT, Tanaka J, Hamada M, Sugiyama Y, Sakaguchi S, Nakamura M, Takahashi S, Miwa Y. In vivo image analysis using iRFP transgenic mice. Exp Anim.; 63(3): 311-9, 2014.
[3]
Kulathunga K, Hamada M, Hiraishi Y, Otake M, Tran MTN, Cheng O, Tanaka J, Sakasai T, Sakaguchi S, Sugiyama Y, Fleischmann BK, Takahashi S, Miwa Y. A Novel iRFP-Incorporated in vivo Murine Atherosclerosis Imaging System. Sci Rep.; 8(1): 14515, 2018.
February 2019
Contact: Saori Mizuno, Ph.D.
Experimental Animal Division, RIKEN BioResource Research Center
All materials contained on this site may not be reproduced, distributed, displayed, published or broadcast without the prior permission of the owner of that content.