Ucp1 in vivo imaging mice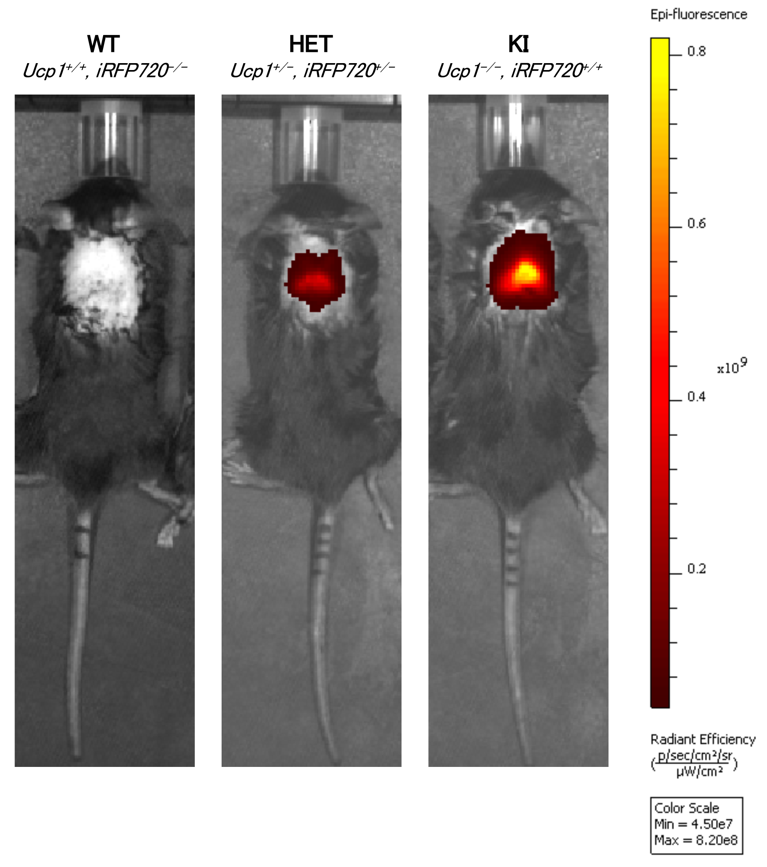 iRF720 fluorescent signal in brown adipose tissues of
wild-type (WT), heterozygous (HET) and homozygous (KI) mice
UCP1 (uncoupling protein 1) is a mitochondrial protein that uncouples electron transport system from ATP synthesis as a proton translator at the mitochondrial inner membrane. UCP1 expression is restricted to both brown and beige adipocytes. Due to its ability to radiate heat energy, UCP1 expression is used for an important index for thermogenesis.
Ucp1 in vivo imaging mice (RBRC10928) is a knock-in strain, in which a near-infrared fluorescent protein iRFP720-coding gene is inserted into the Ucp1 translation initiation site. Because iRFP is brighter, stronger and more stable than previous fluorescent proteins, it is known to be a suitable in vivo imaging probe to allow the great deep tissue penetration and minimal autofluorescence. Actually, depositor (Dr. Fukuda) and her colleagues reported that this strain enabled to monitor Ucp1 expression at both brown and beige adipocytes without an invasive method and injection of imaging reagents.
From the recent clinical research, UCP1 is also remarkable in therapeutic targets for some metabolic disorders (obesity, diabetes, hyperlipidemia, etc.). Therefore, Ucp1 in vivo imaging mice is a useful strain for metabolic related-research.
Depositor
:
Aya Fukuda, Ph.D.
University of Tsukuba
Strain name
:
C57BL/6J-Ucp1<em1(iRFP720)Utgr>
RBRC No.
:
RBRC10928
Reference
:
[1]
Fukuda A, Honda S, Fujioka N, Sekiguchi Y, Mizuno S, Miwa Y, Sugiyama F, Hayashi Y, Nishimura K, Hisatake K.
Non-invasive in vivo imaging of UCP1 expression in live mice via near-infrared fluorescent protein iRFP720
PLoS One. 2019 Nov 15;14(11):e0225213.