A novel protein knockdown technology:
auxin-inducible degron (AID) 2 system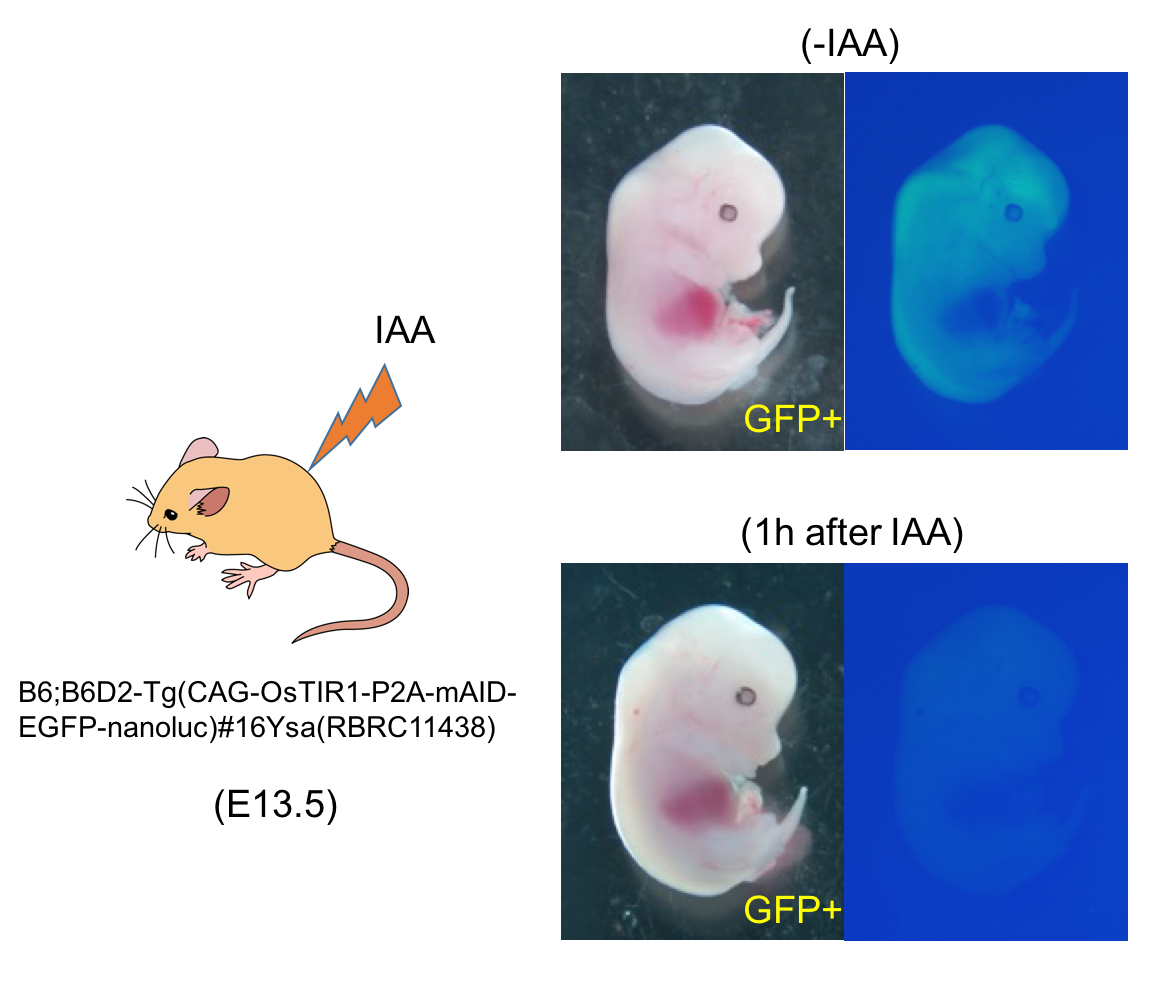 Courtesy of Yumiko Saga, Ph.D.
By injecting 5-Ph-IAA into pregnant wild-type females crossed with the Tg line (RBRC11438), rapid depletion (within 1h) of the reporter EGFP signals was observed.
Protein expression regulation technology is useful for searching of gene functions. Gene expression regulation technologies such as gene-targeting or RNAi system are often used. Recently, degron technology which is a novel protein knockdown method gets attention. In the degron technology, target protein which is added to the degron sequences (a peptide sequence that induces protein degradation) are removed dependent on ligand binding. The auxin-inducible degron (AID) 2 system [1] is an improved version of the former AID system [2,3] which was published in 2009. AID2 system was developed using findings of both cellular ubiquitin-proteasome pathway and plant auxin degradation pathway. The combination of three components (an Oryza sativa TIR1 mutant with a mutation in the auxin-binding site (OsTIR1(F74G)), a mini auxin-inducible degron tag (mAID) and auxin-like ligand 5-phenyl-indole-3-acetic acid (5-Ph-IAA)) enable specific protein degradation. Compared to conventional AID system, AID2 system is characterized by less leaky degradation, lower required ligand concentration and shorter degradation time.
From RIKEN BRC Experimental Animal Division, AID2-related transgenic mice (RBRC11438 and RBRC11439) are available. These strains express OsTIR1(F74G), mAID and fluorescent protein EGFP under the control of CAG promoter. By Intraperitoneal administration of 5-Ph-IAA, rapid depletion of mAID-EGFP reporter expression is observed in living transgenic mice. AID2 system is an attractive tool for a wide variety of not only bioscience but also medical research fields.
Depositor
:
Yumiko Saga, Ph.D.
National Institute of Genetics
Strain name
:
B6;B6D2-Tg(CAG-OsTIR1-P2A-mAID-EGFP-nanoluc)#16Ysa
RBRC No.
:
RBRC11438
Strain name
:
B6;B6D2-Tg(CAG-OsTIR1-P2A-mAID-EGFP-nanoluc)#19Ysa
RBRC No.
:
RBRC11439
References
:
[1]
Yesbolatova A, Saito Y, Kitamoto N, Makino-Itou H, Ajima R, Nakano R, Nakaoka H, Fukui K, Gamo K, Tominari Y, Takeuchi H, Saga Y, Hayashi KI, Kanemaki MT.
The auxin-inducible degron 2 technology provides sharp degradation control in yeast, mammalian cells, and mice.
Nat Commun. 2020 Nov 11;11(1):5701.
[2]
Nishimura K, Fukagawa T, Takisawa H, Kakimoto T, Kanemaki M.
An auxin-based degron system for the rapid depletion of proteins in nonplant cells.
Nat Methods. 2009 Dec;6(12):917-22.
[3]
Natsume T, Kiyomitsu T, Saga Y, Kanemaki MT.
Rapid Protein Depletion in Human Cells by Auxin-Inducible Degron Tagging with Short Homology Donors.
Cell Rep. 2016 Apr 5;15(1):210-218.
Related program
:
NBRP Fundamental Technology Upgrading Program
Related DNA resources in RIKEN BRC
:
Auxin Inducible Degron (AID) System