Multifunctional transcriptional factor;
Heat shock transcription factor 1 (HSF1)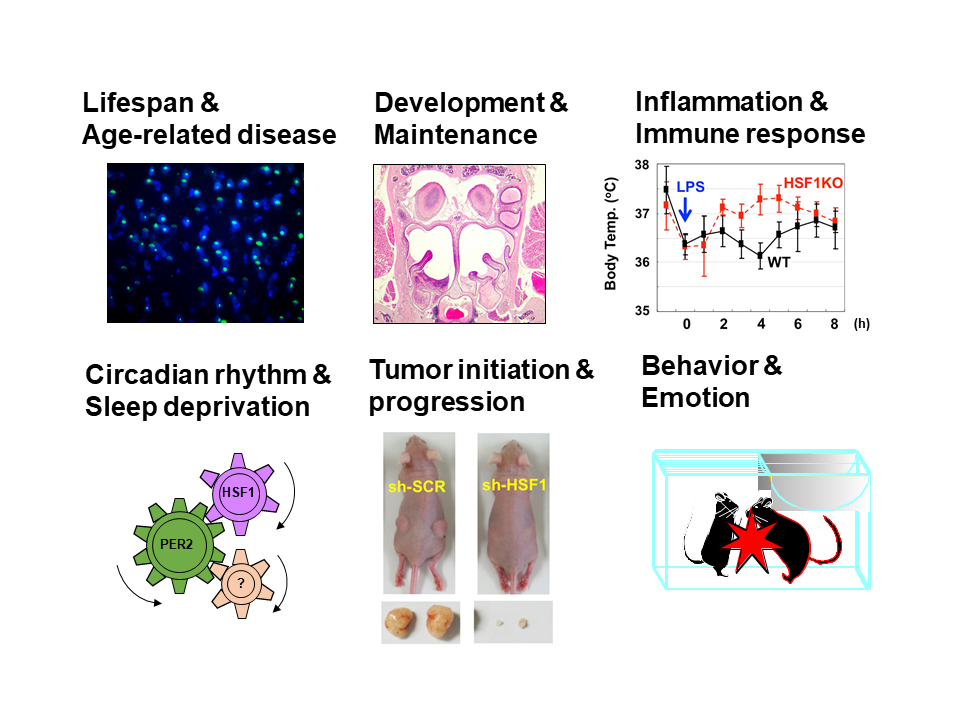 Courtesy of Akira Nakai, M.D., Ph.D.
HSF1 plays important roles in diverse pathophysiological processes. For example, HSF1 deficiency is associated with enhanced inclusion formation of polyglutamine protein in the brain, abnormal nasal cavity, exacerbated febrile response (upper), abnormal circadian rhythm, inhibited tumorigenesis, and increased aggression (lower).
Under conditions of heat or other stresses, heat shock response is induced to maintain protein homeostasis inside cells. In this pathway, HSF1 (heat shock transcription factor 1) plays a pivotal role in robust induction of heat shock proteins, which facilitate protein folding as molecular chaperones. HSF1 is known to be evolutionarily conserved from yeast to humans. Furthermore, it is noteworthy that HSF1 works in a wide variety of physiological phenomena such as development, metabolism, aging, age-related neurodegenerative disease, cancer and so on, irrespective of stress exposure. Indeed, analysis of Hsf1 gene knockout mice (RBRC10003) [1] revealed that HSF1 is involved in not only some physiological processes (olfactory neurogenesis [2], steroidogenesis [3], muscle hypertrophy [4], etc.) but also some disease onset and pathology (central nervous system disease [5-9], digestive system disease [10, 11], etc.). Therefore, Hsf1 gene knockout mice will be useful for exploration of a novel therapeutic target for HSF1-related disease.
Depositor
:
Akira Nakai, M.D., Ph.D.
Department of Biochemistry and Molecular Biology, Yamaguchi University School of Medicine
Strain name
:
ICR;Cg-Hsf1<tm1Anak>
RBRC No.
:
RBRC10003
References
:
[1]
Inouye S, Katsuki K, Izu H, Fujimoto M, Sugahara K, Yamada S, Shinkai Y, Oka Y, Katoh Y, Nakai A.
Activation of heat shock genes is not necessary for protection by heat shock transcription factor 1 against cell death due to a single exposure to high temperatures.
Mol Cell Biol.; 23(16):5882-95, 2003.
[2]
Takaki E, Fujimoto M, Sugahara K, Nakahari T, Yonemura S, Tanaka Y, Hayashida N, Inouye S, Takemoto T, Yamashita H, Nakai A.
Maintenance of olfactory neurogenesis requires HSF1, a major heat shock transcription factor in mice.
J Biol Chem.; 281(8):4931-7, 2006.
[3]
Oka S, Shiraishi K, Fujimoto M, Katiyar A, Takii R, Nakai A, Matsuyama H.
Role of Heat Shock Factor 1 in Conserving Cholesterol Transportation in Leydig Cell Steroidogenesis via Steroidogenic Acute Regulatory Protein.
Endocrinology; 158(8):2648-2658, 2017.
[4]
Koya T, Nishizawa S, Ohno Y, Goto A, Ikuta A, Suzuki M, Ohira T, Egawa T, Nakai A, Sugiura T, Ohira Y, Yoshioka T, Beppu M, Goto K.
Heat shock transcription factor 1-deficiency attenuates overloading-associated hypertrophy of mouse soleus muscle.
PLoS One.; 8(10):e77788, 2013.
[5]
Hayashida N, Fujimoto M, Tan K, Prakasam R, Shinkawa T, Li L, Ichikawa H, Takii R, Nakai A.
Heat shock factor 1 ameliorates proteotoxicity in cooperation with the transcription factor NFAT.
EMBO J.; 29(20):3459-69, 2010.
[6]
Ishii S, Torii M, Son AI, Rajendraprasad M, Morozov YM, Kawasawa YI, Salzberg AC, Fujimoto M, Brennand K, Nakai A, Mezger V, Gage FH, Rakic P, Hashimoto-Torii K.
Variations in brain defects result from cellular mosaicism in the activation of heat shock signalling.
Nat Commun.; 8:15157, 2017.
[7]
Hashimoto-Torii K, Torii M, Fujimoto M, Nakai A, El Fatimy R, Mezger V, Ju MJ, Ishii S, Chao SH, Brennand KJ, Gage FH, Rakic P.
Roles of heat shock factor 1 in neuronal response to fetal environmental risks and its relevance to brain disorders.
Neuron.; 82(3):560-72, 2014.
[8]
Uchida S, Hara K, Kobayashi A, Fujimoto M, Otsuki K, Yamagata H, Hobara T, Abe N, Higuchi F, Shibata T, Hasegawa S, Kida S, Nakai A, Watanabe Y.
Impaired hippocampal spinogenesis and neurogenesis and altered affective behavior in mice lacking heat shock factor 1.
Proc Natl Acad Sci U S A.; 108(4):1681-6, 2011.
[9]
Kondo N, Katsuno M, Adachi H, Minamiyama M, Doi H, Matsumoto S, Miyazaki Y, Iida M, Tohnai G, Nakatsuji H, Ishigaki S, Fujioka Y, Watanabe H, Tanaka F, Nakai A, Sobue G.
Heat shock factor-1 influences pathological lesion distribution of polyglutamine-induced neurodegeneration.
Nat Commun.; 4:1405, 2013.
[10]
Tanaka K, Namba T, Arai Y, Fujimoto M, Adachi H, Sobue G, Takeuchi K, Nakai A, Mizushima T.
Genetic evidence for a protective role for heat shock factor 1 and heat shock protein 70 against colitis.
J Biol Chem.; 282(32):23240-52, 2007.
[11]
Tanaka K, Tsutsumi S, Arai Y, Hoshino T, Suzuki K, Takaki E, Ito T, Takeuchi K, Nakai A, Mizushima T.
Genetic evidence for a protective role of heat shock factor 1 against irritant-induced gastric lesions.
Mol Pharmacol.; 71(4):985-93, 2007.
July 2019
Contact: Saori Mizuno, Ph.D.
Experimental Animal Division, RIKEN BioResource Research Center
All materials contained on this site may not be reproduced, distributed, displayed, published or broadcast without the prior permission of the owner of that content.