A key gene in cancer research
Meflin(Islr) functional analysis tools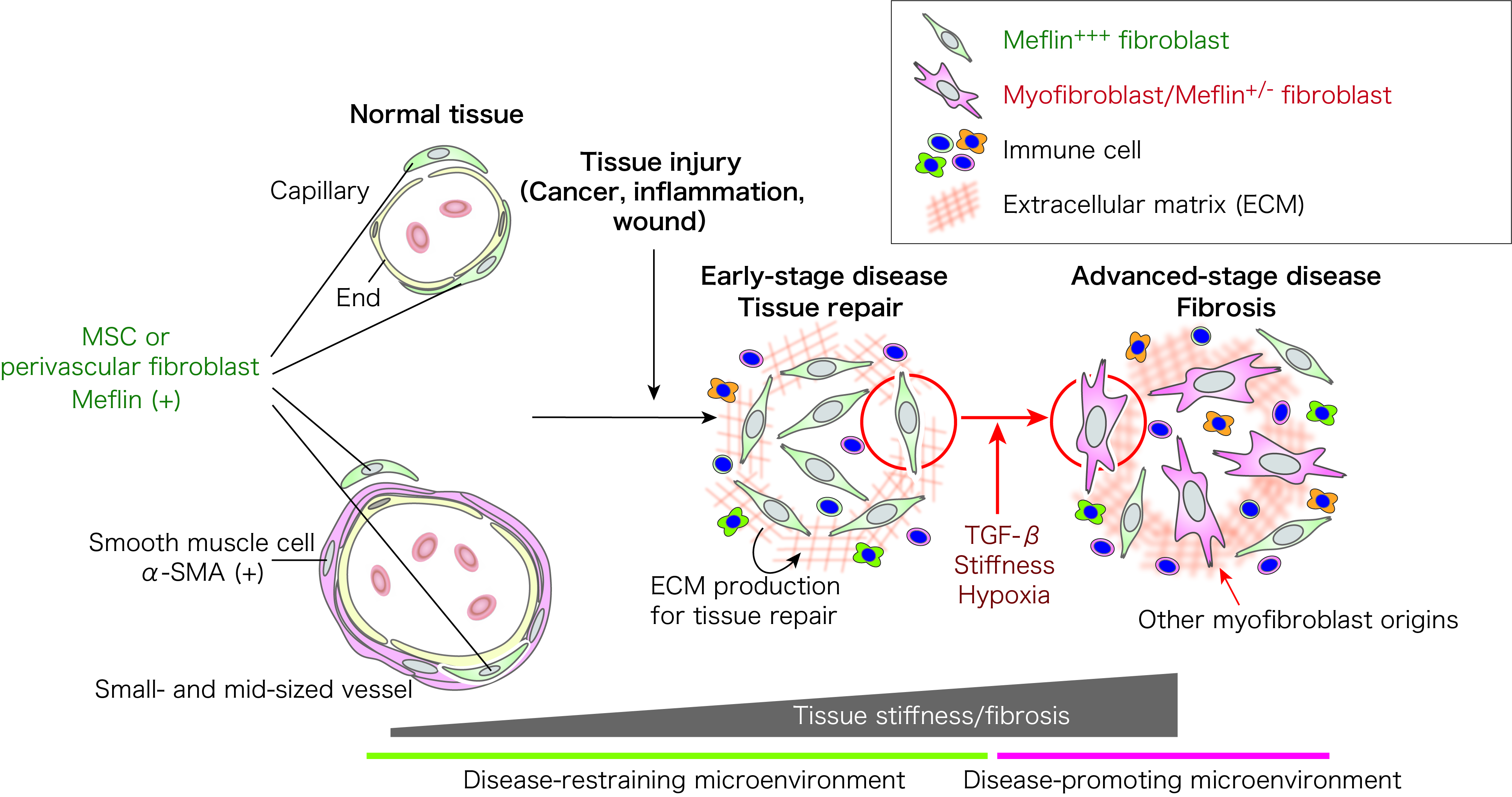 Meflin+ cells are mesenchymal stromal/stem cells (MSCs) or perivascular fibroblasts found on the abluminal side of endothelial cells (End), perivascular areas, and adventitia of capillaries and vessels. They are also sprinkled in the media of small- and mid-sized vessels. Recent studies showed that these Meflin+ cells proliferate after tissue injury, including cancer initiation and inflammation. Some Meflin+ cells differentiate into α-SMA+ myofibroblasts or cancer-associated fibroblasts during disease progression. The factors that induce the differentiation of Meflin+ cells into myofibroblasts that are negative or weakly positive for Meflin include TGF-β, stiffness of substrate, and hypoxia. It is hypothesized that Meflin+ cells may shape a disease-restraining microenvironment, whereas the decrease in Meflin expression in fibroblasts may be involved in the formation of disease-promoting microenvironment.
Meflin (Islr: Immunoglobulin Superfamily Containing Leucine Rich Repeat) is a GPI (glycosylphosphatidylinositol)-anchored membrane protein. The depositor (Dr. Enomoto) and his colleagues identified Meflin as a molecular marker for undifferentiated mesenchymal stromal cells and fibroblasts. In the field of cancer research, Meflin is known as a functional marker of rCAFs (cancer-restraining cancer-associated fibroblasts) [1-4]. Meflin has been reported to be involved in inhibition of cancer progression via BMP signaling pathway in various cancers such as colorectal and pancreatic cancer. Therefore, Meflin has attracted attention as a novel cancer therapeutic target [5-8]. Synthetic retinoid AM80 has already been identified as a compound that enhances Meflin expression and converts pCAFs (cancer-promoting CAFs) to rCAFs. Clinical trials on the efficacy of AM80 in combination with anticancer drugs have been initiated [9,10]. RIKEN BRC can provide three strains: Meflin KO mice (RBRC09446), Meflin tamoxifen-induced Cre driver mice (RBRC11436), Meflin reporter mice (RBRC11437) that express fluorescent protein ZsGreen, DTR (Diphtheria toxin receptor), and Cre enzyme under the control of endogenous Meflin promoter simultaneously. In the near future, getting more understanding of Meflin-related cancer molecular mechanisms will lead to therapeutic applications in the clinical field.
Depositor
:
Atsushi Enomoto, M.D., Ph.D.
Nagoya University
Strain name
:
C57BL/6-Islr<tm1a(EUCOMM)Wtsi>/Ea
RBRC No.
:
RBRC09446
Strain name
:
B6.129S6-Islr<tm1.1(cre/ERT2)Mat>
RBRC No.
:
RBRC11436
Strain name
:
B6.129S6-Islr<tm1.1(ZsGreen/DTR/cre)Mat>
RBRC No.
:
RBRC11437
References
:
[1]
Maeda K, Enomoto A, Hara A, Asai N, Kobayashi T, Horinouchi A, Maruyama S, Ishikawa Y, Nishiyama T, Kiyoi H, Kato T, Ando K, Weng L, Mii S, Asai M, Mizutani Y, Watanabe O, Hirooka Y, Goto H, Takahashi M.
Identification of Meflin as a Potential Marker for Mesenchymal Stromal Cells.
Sci Rep. 2016 Feb 29;6:22288.
[2]
Mizutani Y, Kobayashi H, Iida T, Asai N, Masamune A, Hara A, Esaki N, Ushida K, Mii S, Shiraki Y, Ando K, Weng L, Ishihara S, Ponik SM, Conklin MW, Haga H, Nagasaka A, Miyata T, Matsuyama M, Kobayashi T, Fujii T, Yamada S, Yamaguchi J, Wang T, Woods SL, Worthley D, Shimamura T, Fujishiro M, Hirooka Y, Enomoto A, Takahashi M.
Meflin-Positive Cancer-Associated Fibroblasts Inhibit Pancreatic Carcinogenesis.
Cancer Res. 2019 Oct 15;79(20):5367-5381.
[3]
Miyai Y, Esaki N, Takahashi M, Enomoto A.
Cancer-associated fibroblasts that restrain cancer progression: Hypotheses and perspectives.
Cancer Sci. 2020 Apr;111(4):1047-1057.
[4]
Kobayashi H, Gieniec KA, Wright JA, Wang T, Asai N, Mizutani Y, Lida T, Ando R, Suzuki N, Lannagan TRM, Ng JQ, Hara A, Shiraki Y, Mii S, Ichinose M, Vrbanac L, Lawrence MJ, Sammour T, Uehara K, Davies G, Lisowski L, Alexander IE, Hayakawa Y, Butler LM, Zannettino ACW, Din MO, Hasty J, Burt AD, Leedham SJ, Rustgi AK, Mukherjee S, Wang TC, Enomoto A, Takahashi M, Worthley DL, Woods SL.
The Balance of Stromal BMP Signaling Mediated by GREM1 and ISLR Drives Colorectal Carcinogenesis.
Gastroenterology.2021 Mar;160(4):1224-1239.e30.
[5]
Miyai Y, Sugiyama D, Hase T, Asai N, Taki T, Nishida K, Fukui T, Chen-Yoshikawa TF, Kobayashi H, Mii S, Shiraki Y, Hasegawa Y, Nishikawa H, Ando Y, Takahashi M, Enomoto A.
Meflin-positive cancer-associated fibroblasts enhance tumor response to immune checkpoint blockade.
Life Sci Alliance. 2022 Mar 2;5(6):e202101230.
[6]
Hara A, Kobayashi H, Asai N, Saito S, Higuchi T, Kato K, Okumura T, Bando YK, Takefuji M, Mizutani Y, Miyai Y, Saito S, Maruyama S, Maeda K, Ouchi N, Nagasaka A, Miyata T, Mii S, Kioka N, Worthley DL, Murohara T, Takahashi M, Enomoto A.
Roles of the Mesenchymal Stromal/Stem Cell Marker Meflin in Cardiac Tissue Repair and the Development of Diastolic Dysfunction.
Circ Res. 2019 Aug 2;125(4):414-430.
[7]
Hara A, Kato K, Ishihara T, Kobayashi H, Asai N, Mii S, Shiraki Y, Miyai Y, Ando R, Mizutani Y, Iida T, Takefuji M, Murohara T, Takahashi M, Enomoto A.
Meflin defines mesenchymal stem cells and/or their early progenitors with multilineage differentiation capacity.
Genes Cells. 2021 Jul;26(7):495-512.
[8]
Nakahara Y, Hashimoto N, Sakamoto K, Enomoto A, Adams TS, Yokoi T, Omote N, Poli S, Ando A, Wakahara K, Suzuki A, Inoue M, Hara A, Mizutani Y, Imaizumi K, Kawabe T, Rosas IO, Takahashi M, Kaminski N, Hasegawa Y.
Fibroblasts positive for meflin have anti-fibrotic properties in pulmonary fibrosis.
Eur Respir J. 2021 Dec 23;58(6):2003397.
[9]
Mizutani Y, Iida T, Ohno E, Ishikawa T, Kinoshita F, Kuwatsuka Y, Imai M, Shimizu S, Tsuruta T, Enomoto A, Kawashima H, Fujishiro M.
Safety and efficacy of MIKE-1 in patients with advanced pancreatic cancer: a study protocol for an open-label phase I/II investigator-initiated clinical trial based on a drug repositioning approach that reprograms the tumour stroma.
BMC Cancer. 2022 Feb 24;22(1):205.
[10]
Iida T, Mizutani Y, Esaki N, Ponik SM, Burkel BM, Weng L, Kuwata K, Masamune A, Ishihara S, Haga H, Kataoka K, Mii S, Shiraki Y, Ishikawa T, Ohno E, Kawashima H, Hirooka Y, Fujishiro M, Takahashi M, Enomoto A.
Pharmacologic conversion of cancer-associated fibroblasts from a protumor phenotype to an antitumor phenotype improves the sensitivity of pancreatic cancer to chemotherapeutics.
Oncogene. 2022 Apr 13.