Fucci mice for visualizing cell-cycle in vivo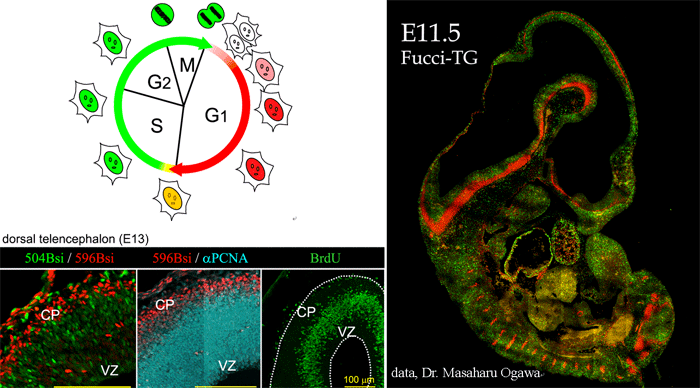 Two transgenic strains of 
fluorescent, ubiquitination-based cell cycle indicator
, "Fucci", B6.Cg-Tg(Fucci)504Bsi (
RBRC02706
) and B6.Cg-Tg(Fucci)596Bsi (
RBRC02707
) mice can be used to clearly visualize the cell cycle with fluorescence, i.e. S/G
2
/M phase nuclei green and those in G
1
 phase red 
in vivo
. The double transgenic mice in which every cell nucleus exhibits either green or red fluorescence will serve as a powerful tool for visualizing the spatio-temporal dynamics of cell-cycle progression in every biological event [1].
Developer
:
Dr. Asako Sakaue-Sawano & Dr. Atsushi Miyawaki (RIKEN)
http://cfds.brain.riken.jp/Fucci.html
Depositor
:
Amalgaam(MBL)
https://ruo.mbl.co.jp/product/flprotein/fucci.html
Reference
:
Sakaue-Sawano, A., Kurokawa, H., Morimura, T., Hanyu, A., Hama, H., Osawa, H., Kashiwagi, S., Fukami, K., Miyata, T., Miyoshi, H., Imamura, T., Ogawa, M., Masai, H. and Miyawaki, A. 2008. Visualizing spatiotemporal dynamics of multicellular cell-cycle progression. Cell 132: 487-498.