Novel ROSA26 Cre-reporter knock-in C57BL/6N mice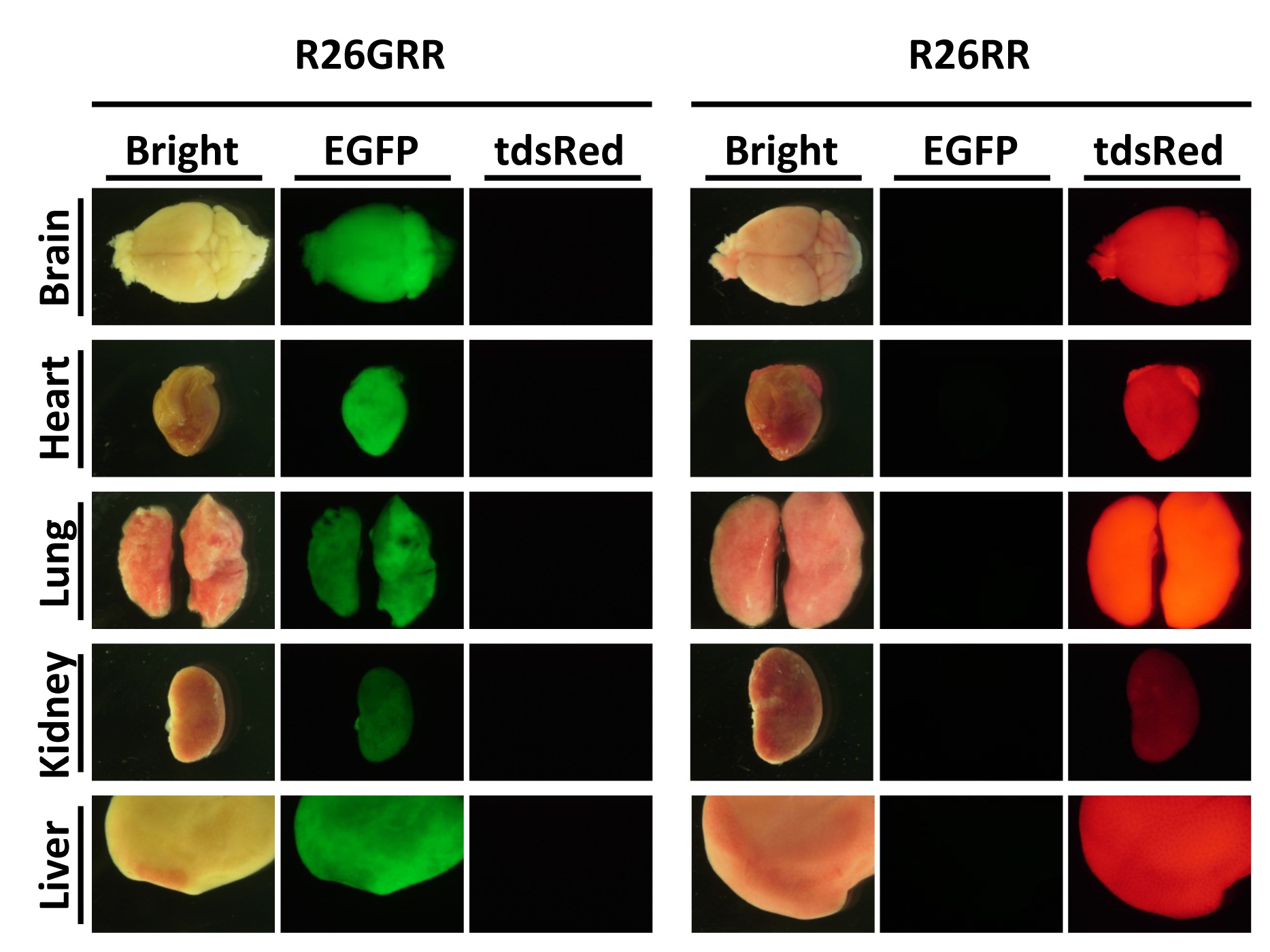 Figure reproduced from ref. 2 by the courtesy of the authors and the publisher.
Cre recombinase is a 38-kDa enzyme derived from bacteriophage P1 that specifically recognizes 34-bp loxP sites. Cre is among the most widely used site-specific recombinases in genome engineering. A number of reporter mouse strains have been engineered specifically for identifying the derivatives of Cre-expressing cells and include ROSA26-reporter mice (R26R mice) [1]. Here, the ROSA26 locus was targeted to generate new reporter mice (R26GRR mice) in which floxed EGFP and tandem dsRed (tdsRed) were inserted downstream of the CAG promoter [2]. As shown in the figure, R26GRR mice show green fluorescence in the cell of a wide range of organs prior to Cre recombinase exposure and show red fluorescence in the Cre-recombined cells. tdsRed yields negligible contamination of the EGFP signal, resulting in ideal dual-color labeling with EGFP [3]. R26GRR mice are also a good source of EGFP-positive cells with a C57BL/6N genetic background as this strain was produced using embryonic stem cells derived from a C57BL/6N blastocyst [4]. These novel R26GRR mice are a useful Cre-reporter C57BL/6N strain following Cre-mediated recombination.
Depositor
:
RIKEN BioResource Center
References
:
[1]
Soriano P. Generalized lacZ expression with the ROSA26 Cre reporter strain. Nat Genet.; 21(1):70-1, 1999.
[2]
Hasegawa Y, Daitoku Y, Sekiguchi K, Tanimoto Y, Mizuno-Iijima S, Mizuno S, Kajiwara N, Ema M, Miwa Y, Mekada K, Yoshiki A, Takahashi S, Sugiyama F, Yagami K. Novel ROSA26 Cre-reporter knock-in C57BL/6N mice exhibiting green emission before and red emission after Cre-mediated recombination. Exp Anim.; 62(4):295-304, 2013.
[3]
Bevis BJ, Glick BS. Rapidly maturing variants of the Discosoma red fluorescent protein (DsRed). Nat Biotechnol.; 20(1):83-7, 2002.
[4]
Tanimoto Y, Iijima S, Hasegawa Y, Suzuki Y, Daitoku Y, Mizuno S, Ishige T, Kudo T, Takahashi S, Kunita S, Sugiyama F, Yagami K. Embryonic stem cells derived from C57BL/6J and C57BL/6N mice. Comp Med.; 58(4):347-52, 2008.
March 2014
Contact: Shinya Ayabe, Ph.D.
Experimental Animal Division, RIKEN BioResource Center
All materials contained on this site may not be reproduced, distributed, displayed, published or broadcast without the prior permission of the owner of that content.