A knock-in mouse strain with R124H human TGFBI mutation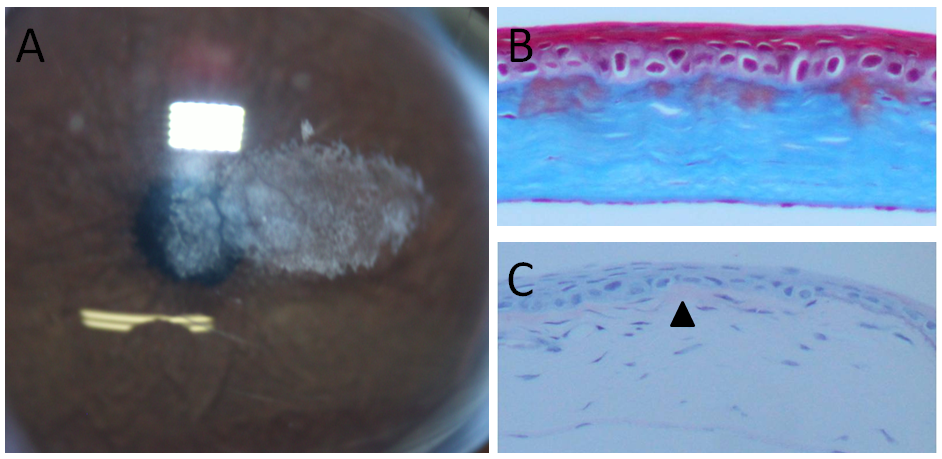 Courtesy of Shigeto Shimmura, M.D., Ph.D.
Granular and lattice deposits without edema and neovascularization were observed in the center of the cornea (A). Masson trichrome and Congo red staining showed red deposits in the anterior cornea (B, C arrowhead).
Granular corneal dystrophy (GCD) is an autosomal, bilateral disorder characterized by accumulation of granular deposits in the cornea. Age-dependent accumulation of these deposits affects central corneal stroma and decreases vision. Patients with GCD type 2 (GCD2, also known as Avellino type) tend to have less numerous deposits and may superficially resemble lattice corneal dystrophy. GCD2 is caused by a point mutation (R124H) in the TGFBI gene, which is the mutation most commonly found in Japanese patients [1, 2]. Shimmura and colleagues generated a knock-in mouse strain that carries human TGFBI cDNA with R124H mutation [3]. TGFBIR124H mice developed corneal opacities without inflammatory phenotype, and both granular opacities and lattice-like deposits were observed. Although the penetrance was not complete, the incidence of corneal opacity was significantly higher in homozygotes than in heterozygotes. While the phenotypes didn't become more severe in homozygous TGFBIR124H mice compared to those in heterozygotes, which is not the case in human, studies with this new GCD2 mouse model will contribute to reveal the pathogenesis of the disease.
Depositor
:
Shigeto Shimmura, M.D., Ph.D.
Department of Ophthalmology
Keio University School of Medicine
Strain name
:
B6-Tgfbi<tm1(TGFBI)Ccbko>
RBRC No.
:
RBRC09538
References
:
[1]
Folberg R, Alfonso E, Croxatto JO, Driezen NG, Panjwani N, Laibson PR, Boruchoff SA, Baum J, Malbran ES, Fernandez-Meijide R, et al. Clinically atypical granular corneal dystrophy with pathologic features of lattice-like amyloid deposits. A study of these families.Ophthalmology; 95(1):46-51, 1988.
[2]
Mashima Y, Yamamoto S, Inoue Y, Yamada M, Konishi M, Watanabe H, Maeda N, Shimomura Y, Kinoshita S. Association of autosomal dominantly inherited corneal dystrophies with BIGH3 gene mutations in Japan.Am J Ophthalmol.; 130(4):516-7, 2000.
[3]
Yamazoe K, Yoshida S, Yasuda M, Hatou S, Inagaki E, Ogawa Y, Tsubota K, Shimmura S. Development of a Transgenic Mouse with R124H Human TGFBI Mutation Associated with Granular Corneal Dystrophy Type 2.PLoS ONE; 10(7):e0133397, 2015.
March 2016
Contact: Shinya Ayabe, Ph.D.
Experimental Animal Division, RIKEN BioResource Center
All materials contained on this site may not be reproduced, distributed, displayed, published or broadcast without the prior permission of the owner of that content.