A model mouse strain for 22q11.2 deletion syndrome
with a 3.0-Mb deletion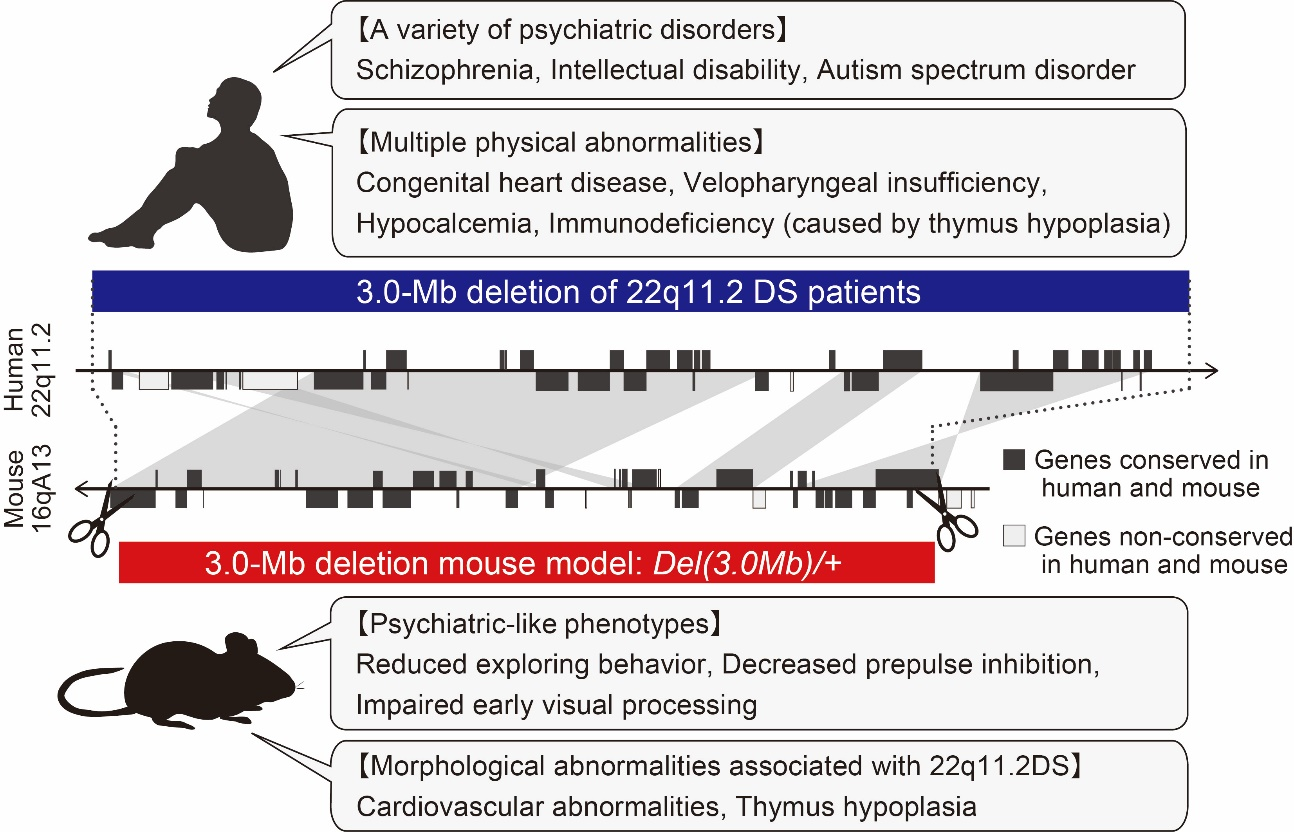 Courtesy of Atsu Aiba, Ph.D.
Overview of the 22q11.2 deletion syndrome (22q11.2DS) 3.0-Mb deletion mouse model. This mouse model is reproduced a deletion corresponding to the 3.0-Mb region found in 22q11.2DS patients (blue range) by the CRISPR/Cas9 system (red range).
The 22q11.2 deletion syndrome (22q11.2DS) is a syndrome caused by microdeletion of chromosome 22 at a location designated q11.2 and occurs in about 1 in 4,000 live births. Most of the 22q11.2DS patients have a specific 3.0-Mb deletion region where 45 coding genes are located and 37 of them are conserved in the mouse chromosome 16qA13 (between Pi4ka and Hira genes). Depositor (Dr. Aiba) and his colleagues generated a novel 22q11.2DS mouse model which reproduced the 3.0-Mb deletion of 22q11.2DS (RBRC11066; Del(3.0Mb)/+ mice) by CRISPR/Cas9 system.
22q11.2DS patients display multiple physical abnormalities containing cardiac malformation, velopharyngeal insufficiency, hypocalcemia, thymus hypoplasia, immune deficiency and so on. Indeed, Del(3.0Mb)/+ mice show some abnormal cardiovascular phenotypes (such as interrupted aortic arch, aberrant right subclavian artery) and thymus hypoplasia commonly observed in some 22q11.2DS patients.
In addition, it is known that 22q11.2DS patients increase the risk of developing a variety of psychiatric and developmental disorders, including schizophrenia and intellectual disability. Del(3.0Mb)/+ mice also show schizophrenia-like phenotypes such as characterized behavior revealed by behavioral battery tests, cognitive dysfunction and impairment of visual-evoked potentials.
Del(3.0Mb)/+ mice stimulate further research not only identifying the mechanisms and pathways but also developing new therapeutic drugs or methods involved in schizophrenia and the other 22q11.2DS-related psychiatric and developmental disorders.
Depositor
:
Atsu Aiba, Ph.D.
The University of Tokyo
Strain name
:
C57BL/6N-Del(16Pi4ka-Hira)Atai
RBRC No.
:
RBRC11066
Reference
:
[1]
Saito R, Koebis M, Nagai T, Shimizu K, Liao J, Wulaer B, Sugaya Y, Nagahama K, Uesaka N, Kushima I, Mori D, Maruyama K, Nakao K, Kurihara H, Yamada K, Kano M, Fukada Y, Ozaki N, Aiba A.
Transl Psychiatry. 2020 Feb 5;10(1):35.