Critical roles of TRAF6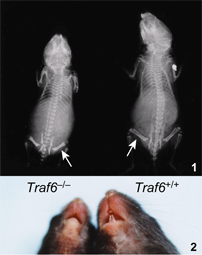 Among the live pups examined, only about 12% were Traf6-/-, while examination of the embryos revealed a normal Mendelian ratio of Traf6-/- mice at day 14.5 post-conception. Viable Traf6-/- mice appeared normal at birth, but became smaller than their normal littermates by day 6. Traf6-/- mice became more runted with time and died at 17-19 days. Whole body anteroposterior radiographs of 12-day-old Traf6-/-mice and their normal littermates revealed that the mutant mice had shortened long bones that were radio-opaque (Fig. 1) and one of their most obvious phenotypes was failure of tooth eruption (Fig. 2). These phenotypes are characteristic of osteopetrosis, a disorder of bone remodeling caused by impaired osteoclast formation or function. In fact, TRAF6 is required for signaling from RANK, an essential receptor for osteoclastogenesis.
Tumor necrosis factor (TNF) receptor-associated factor (TRAF) is a cytoplasmic protein that is involved in signaling pathways via the TNF receptor superfamily and the Toll-like receptor/interleukin-1 (IL-1) receptor superfamily. TRAF6 activates the transcription factors NF-κB and AP-1, and plays essential roles in a variety of biological processes, including osteoclast differentiation, B cell follicle development, lymph node formation, central tolerance of T cells, development and maturation of dendritic cells, development of skin appendices, and survival of neuronal cells [1-14]. Therefore, loss of TRAF6 resulted in various disorders including osteopetrosis, hypohidrotic ectodermal dysplasia, autoimmunity, and a number of problems in both innate and acquired immune responses.
In the IL-1R and TLR pathways, IKK activation, an essential process for NF-κB activation, requires the generation of unanchored Lys63-linked polyubiquitin chains or their conjugation to TRAF6 and TGFβ-activated kinase (TAK) 1, both of which are catalyzed by TRAF6 (E3) and the Ubc13/Uev1A complex (E2). These Lys63-linked polyubiquitin chains act as platforms for the formation of active signal complexes that consist of MEKK3, TAK1, TAK1-binding (TAB) 2/TAB3, and the IKK complex. Formation of these complexes leads to the activation of TAK1, which then phosphorylates and activates IKKβ [15]. These knockout mice provide the opportunity to understand the role of TRAF6 in NF-κB activation in various biologically important systems.
Depositor
:
Dr. Jun-ichiro Inoue
Division of Cellular and Molecular Biology, The Institute of Medical Science
The University of Tokyo
References
:
[1]
Ishida T, Mizushima S, Azuma S, Kobayashi N, Tojo T, Suzuki K, Aizawa S, Watanabe T, Mosialos G, Kieff E, Yamamoto T,

Inoue J

. Identification of TRAF6, a novel tumor necrosis factor receptor-associated factor protein that mediates signaling from an amino-terminal domain of the CD40 cytoplasmic region. J Biol Chem; 271(46):28745-8, 1996.
[2]
Naito A, Azuma S, Tanaka S, Miyazaki T, Takaki S, Takatsu K, Nakao K, Nakamura K, Katsuki M, Yamamoto T,

Inoue J

. Severe osteopetrosis, defective interleukin-1 signalling and lymph node organogenesis in TRAF6-deficient mice. Genes Cells; 4(6):353-62, 1999.
[3]
Kobayashi N, Kadono Y, Naito A, Matsumoto K, Yamamoto T, Tanaka S,

Inoue J

. Segregation of TRAF6-mediated signaling pathways clarifies its role in osteoclastogenesis. EMBO J; 20(6):1271-80, 2001.
[4]
Naito A, Yoshida H, Nishioka E, Satoh M, Azuma S, Yamamoto T, Nishikawa S,

Inoue J

. TRAF6-deficient mice display hypohidrotic ectodermal dysplasia. Proc Natl Acad Sci U S A; 99(13):8766-71, 2002.
[5]
Yoshida H, Naito A,

Inoue J

, Satoh M, Santee-Cooper SM, Ware CF, Togawa A, Nishikawa S, Nishikawa S. Different cytokines induce surface lymphotoxin-alphabeta on IL-7 receptor-alpha cells that differentially engender lymph nodes and Peyer's patches. Immunity; 17(6):823-33, 2002.
[6]
Gohda J, Matsumura T,

Inoue J

. Cutting edge: TNFR-associated factor (TRAF) 6 is essential for MyD88-dependent pathway but not toll/IL-1 receptor domain-containing adaptor-inducing IFN-beta (TRIF)-dependent pathway in TLR signaling. J Immunol; 173(5):2913-7, 2004.
[7]
Gohda J, Akiyama T, Koga T, Takayanagi H, Tanaka S,

Inoue J

. RANK-mediated amplification of TRAF6 signaling leads to NFATc1 induction during osteoclastogenesis. EMBO J; 24(4):790-9, 2005.
[8]
Akiyama T, Maeda S, Yamane S, Ogino K, Kasai M, Kajiura F, Matsumoto M,

Inoue J

. Dependence of self-tolerance on TRAF6-directed development of thymic stroma. Science; 308(5719):248-51, 2005.
[9]

Inoue J

, Gohda J, Akiyama T. Characteristics and Biological Functions of TRAF6. In "

TRAFs

" edited by Hao Wu. Adv Exp Med Biol; 597:72-9, 2007.
[10]
Qin J, Konno H, Ohshima D, Yanai H, Motegi H, Shimo Y, Hirota F, Matsumoto M, Takaki S,

Inoue J

, Akiyama T. Developmental stage-dependentcollaboration between the TNF receptor-associated factor 6 and lymphotoxin pathways for B cell follicle organization in secondary lymphoid organs. J Immunol; 179(10):6799-807, 2007.
[11]
Akiyama T, Shimo Y, Yanai H, Qin J, Ohshima D, Maruyama Y, Asaumi Y, Kitazawa J, Takayanagi H, Penninger JM, Matsumoto M, Nitta T, Takahama Y,

Inoue J

. The tumor necrosis factor family receptors RANK and CD40 cooperatively establish the thymic medullary microenvironment and self-tolerance. Immunity; 29(3):423-37, 2008.
[12]
Konno H, Yamamoto T, Yamazaki K, Gohda J, Akiyama T, Semba K, Goto H, Kato A, Yujiri T, Imai T, Kawaguchi Y, Su B, Takeuchi O, Akira S, Tsunetsugu-Yokota Y,

Inoue J

. TRAF6 establishes innate immune responses by activating NF-kappaB and IRF7 upon sensing cytosolic viral RNA and DNA. PLoS One; 4(5):e5674, 2009.
[13]
Motegi H, Shimo Y, Akiyama T,

Inoue J

. TRAF6 negatively regulates the Jak1-Erk pathway in interleukin-2 signaling. Genes Cells; 16(2):179-89, 2011.
[14]
Shimo Y, Yanai H, Ohshima D, Qin J, Motegi H, Maruyama Y, Hori S,

Inoue J

, Akiyama T. TRAF6 directs commitment to regulatory T cells in thymocytes. Genes Cells; 16(4):437-47, 2011.
[15]
Yamazaki K, Gohda J, Kanayama A, Miyamoto Y, Sakurai H, Yamamoto M, Akira S, Hayashi H, Su B,

Inoue J

. Two mechanistically and temporally distinct NF-kappaB activation pathways in IL-1 signaling. Sci Signal; 2(93):ra66, 2009.