Oxytocin Receptor (Oxtr) functional analysis tools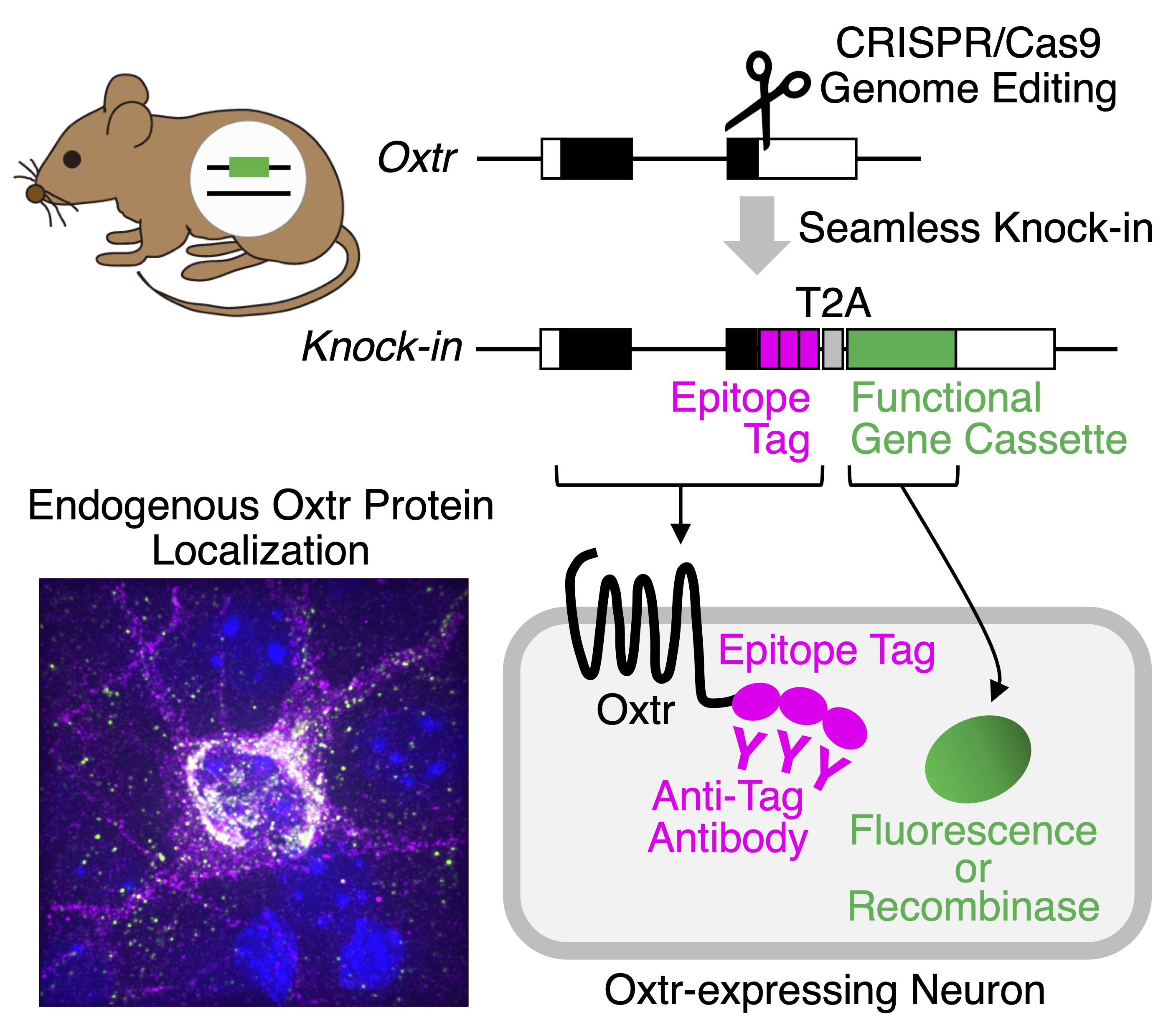 Since commercially available antibodies against oxytocin receptor (Oxtr) have low specificity and cannot be used in brain tissues, we inserted epitope tags (PA-tag or HA-tag) at the C-terminus, to allow detection of Oxtr protein by using specific antibodies for the tags. By employing the 2A peptide sequences, we also developed mouse tools to express tdTomato fluorescent reporter or Cre recombinase in Oxtr-expressing cells.
  
Oxytocin (OXT) is a neuropeptide produced in the hypothalamus. We previously introduced the oxytocin neuron Cre-driver Oxt-iCre KI mice (RBRC11316) [1]. In this issue, we introduce four strains of KI mice that are useful for functional analysis of the oxytocin receptor (OXTR), which is a member of the G protein-coupled receptor (GPCR) family. OXTR is expressed on the plasma membrane in various parts of the brain and is responsible for transmitting OXT signals into the cell. The depositors (Dr. Takayoshi Inoue, Dr. Yukiko U. Inoue and their colleagues) used genome editing technology to insert various fragments upstream of the termination codon of the Oxtr gene to establish red fluorescent reporter mice (RBRC11686: Oxtr<1xPA-tdTomato>), Cre driver mice (RBRC 11687: Oxtr<1xPA-iCre>), PA-tagged mice (RBRC11688: Oxtr<3xPA>), and HA-tagged and tamoxifen-induced Cre driver mice (RBRC11689: Oxtr<3xHA-iCreERT2>) [2]. OXT-OXTR signaling is a topic that is attracting attention not only in basic research but also in clinical aspects, and we expect these four strains to be used in a wide range of applications.
Keywords
:
Oxytocin, Oxytocin receptor, iCre, tdTomato, PA-tag, HA-tag
Depositors
:
Takayoshi Inoue, Ph.D. and Yukiko U. Inoue, Ph.D.
(National Center of Neurology and Psychiatry)
Strain name
:
B6;Cg-Oxtr<em1(1xPA/T2A/tdTomato)Yinn>
RBRC No.
:
RBRC11686
Strain name
:
B6;Cg-Oxtr<em2(1xPA/T2A/icre)Yinn>
RBRC No.
:
RBRC11687
Strain name
:
B6;Cg-Oxtr<em3(3xPA)Yinn>
RBRC No.
:
RBRC11688
Strain name
:
B6;Cg-Oxtr<em4(3xHA/T2A/icre/ERT2)Yinn>
RBRC No.
:
RBRC11689
References
:
[1]
Oxytocin neuron Cre-driver mice.
Mouse of the Month August 2022
[2]
Inoue YU, Miwa H, Hori K, Kaneko R, Morimoto Y, Koike E, Asami J, Kamijo S, Yamada M, Hoshino M, Inoue T.
Targeting Neurons with Functional Oxytocin Receptors: A Novel Set of Simple Knock-In Mouse Lines for Oxytocin Receptor Visualization and Manipulation.
eNeuro. 2022 Feb 15;9(1):ENEURO.0423-21.2022.