Kaede mice for in vivo monitoring of cell migration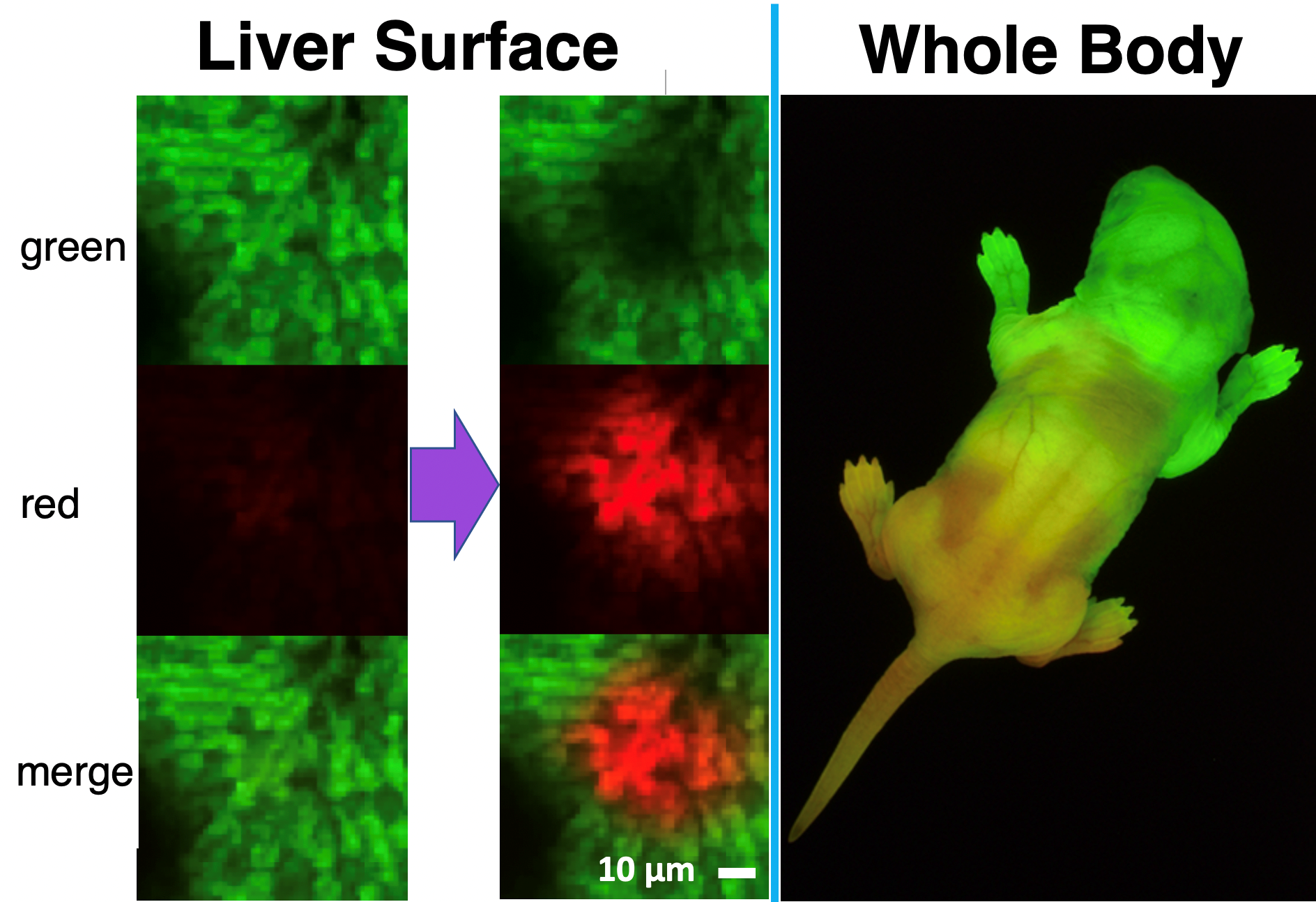 Photoconversion can be induced in both limited spot aria (left : for target cells)
and wide aria (right : for target organs) by choosing illuminant of violet light.
Kaede mice are transgenic strains expressing photoconversion fluorescent protein "Kaede (derived from a kind of stony coral)" under the control of CAG promoter. Kaede mice emit green fluorescence constitutively in all the cells. After irradiation with violet light, green-to-red photoconversion occurs only in exposure site. This distinctive photoconversion is not affected in the cellular function. Moreover, in cells with the fewer number of divisions, red fluorescent signal is observed for comparative long time. Therefore, these strains are known to be useful for both labelling of the specific cells and in vivo visualization of the cell migration. So far, Kaede mice have been utilized mainly in immunological research. For example, these were contributed to reveal immune cellular movement between organs or tissues under some environments (virus infection [3], disease onset [4], tumor infiltration [5], etc.). In addition, these approaches were divergent. Not only the analysis of original Kaede mice but also mate experiments with the other gene-modified mice or production of bone marrow chimeric mice have been reported. Cell migration monitoring by photoconversion is an attractive tool for a wide variety of research fields. We expect more effective utilization of these strains.
Depositor
:
Yoshihiro Miwa, Ph.D.
University of Tsukuba (at the time of the strain deposition)
Strain name
:
B6.Cg-Tg(CAG-tdKaede)15Utr
(C57BL/6 background)
RBRC No.
:
RBRC05737
Strain name
:
B6.Cg-c/c Tg(CAG-tdKaede)15Utr
(albino C57BL/6 background)
RBRC No.
:
RBRC05738
Strain name
:
C.Cg-Tg(CAG-tdKaede)15Utr
(BALB/c background)
RBRC No.
:
RBRC09257
References
:
[1]
Tomura M, Yoshida N, Tanaka J, Karasawa S, Miwa Y, Miyawaki A, Kanagawa O.
Monitoring cellular movement in vivo with photoconvertible fluorescence protein "Kaede" transgenic mice.
Proc Natl Acad Sci U S A. 2008 Aug 5;105(31):10871-6.

[2]
Monitoring cell replacement and migration in vivo with Kaede.
Mouse of the Month August 2016
[3]
Beura LK, Wijeyesinghe S, Thompson EA, Macchietto MG, Rosato PC, Pierson MJ, Schenkel JM, Mitchell JS, Vezys V, Fife BT, Shen S, Masopust D.
T Cells in Nonlymphoid Tissues Give Rise to Lymph-Node-Resident Memory T Cells.
Immunity.2018 Feb 20;48(2):327-338.e5.
[4]
Calcinotto A, Brevi A, Chesi M, Ferrarese R, Garcia Perez L, Grioni M, Kumar S, Garbitt VM, Sharik ME, Henderson KJ, Tonon G, Tomura M, Miwa Y, Esplugues E, Flavell RA, Huber S, Canducci F, Rajkumar VS, Bergsagel PL, Bellone M.
Microbiota-driven interleukin-17-producing cells and eosinophils synergize to accelerate multiple myeloma progression.
Nat Commun. 2018 Dec 3;9(1):4832.
[5]
Torcellan T, Hampton HR, Bailey J, Tomura M, Brink R, Chtanova T.
In vivo photolabeling of tumor-infiltrating cells reveals highly regulated egress of T-cell subsets from tumors.
Proc Natl Acad Sci U S A. 2017 May 30;114(22):5677-5682.