Sirt1 overexpression in neural and
vascular endothelial cells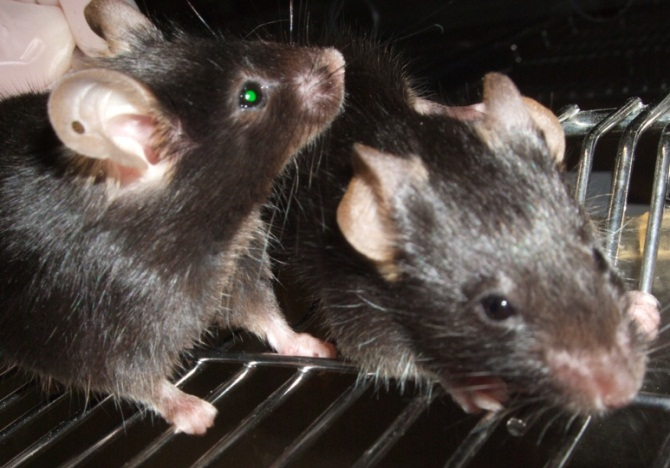 Courtesy of Makoto Kinoshita, M.D., Ph.D.
Green fluorescence in the lens enables instant discrimination between transgenic (left) and non-transgenic (right) littermates without PCR genotyping. This genetic marker saves breeding costs and prevents misidentification without affecting behavior.
Sirtuins were identified originally as genetic silencing factors in yeast and are categorized as class III histone deacetylases. Sirtuin 1 (SIRT1) is the ortholog of yeast silent information regulator 2 and exhibits NAD-dependent deacetylase activity. Although there has been some debate, many reports support a role for SIRT1 in aging. In addition to its beneficial function during brain development, a neuroprotective effect of SIRT1 has been demonstrated in animal models of various diseases including Huntington's, Parkinson's, and Alzheimer's disease [1].

Kinoshita and colleagues generated a transgenic mouse strain that expresses Sirt1 in the central nervous system (CNS) under the control of murine prion promoter (Prnp). SIRT1 supplementation in the CNS extended the lifespan of amyotrophic lateral sclerosis model mice by suppressing the effect of a dominant mutation in superoxide dismutase 1 (SOD1) [2]. Chronic overexpression of Sirt1 reduced mutated SOD1 protein levels through deacetylation of heat shock factor 1 followed by the activation of inducible HSP70. The increased expression of endothelial Sirt1 also reportedly protected the transgenic mice from memory impairment induced by bilateral common carotid artery stenosis [3] and from ischemic damage by bilateral common carotid artery occlusion [4]. Neurovascular endothelial SIRT1 showed a vasodilative effect through eNOS activation. Prnp-Sirt1 transgenic mice offer a promising approach to treat neurodegenerative disorders.
Depositor
:
Makoto Kinoshita, M.D., Ph.D.
Division of Biological Science
Nagoya University Graduate School of Science
Strain name
:
C57BL/6-Tg(Prnp-Sirt1,Cryaa-EGFP)1Ksh
RBRC No.
:
RBRC06467
References
:
[1]
Herskovits AZ, Guarente L. SIRT1 in neurodevelopment and brain senescence. Neuron; 81(3):471-83, 2014.
[2]
Watanabe S, Ageta-Ishihara N, Nagatsu S, Takao K, Komine O, Endo F, Miyakawa T, Misawa H, Takahashi R, Kinoshita M, Yamanaka K. SIRT1 overexpression ameliorates a mouse model of SOD1-linked amyotrophic lateral sclerosis via HSF1/HSP70i chaperone system. Mol Brain; 7:62, 2014.
[3]
Hattori Y, Okamoto Y, Maki T, Yamamoto Y, Oishi N, Yamahara K, Nagatsuka K, Takahashi R, Kalaria RN, Fukuyama H, Kinoshita M, Ihara M. Silent information regulator 2 homolog 1 counters cerebral hypoperfusion injury by deacetylating endothelial nitric oxide synthase. Stroke; 45(11):3403-11, 2014.
[4]
Hattori Y, Okamoto Y, Nagatsuka K, Takahashi R, Kalaria RN, Kinoshita M, Ihara M. SIRT1 attenuates severe ischemic damage by preserving cerebral blood flow. NeuroReport; 26(3):113-7, 2015.
February 2015
Contact: Shinya Ayabe, Ph.D.
Experimental Animal Division, RIKEN BioResource Center
All materials contained on this site may not be reproduced, distributed, displayed, published or broadcast without the prior permission of the owner of that content.